Group Classes
Group Fitness Classes
With a range of group fitness options and session times staying motivated has never been easier! We offer group fitness classes for every personal health goal, including Les Mills, free style, Wellness, teen and seniors' classes.
Wellness
Improve your strength, flexibility, balance and body awareness in any of our wellness classes.

Any of these classes will leave you feeling calm, centred and happy.

Our wellness classes focus on breathing and mediation. Our instructors will always provide you with options for all fitness levels.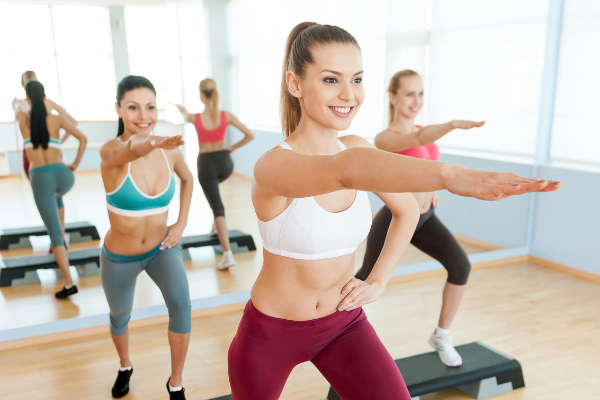 Strength & Conditioning
Our Strength and Conditioning Classes offer a high energy workout that targets all the major muscle groups.
Suitable for all fitness levels - you will find something for suit your ability and strength.
These classes include:
Body Pump

HIIT

CXWORX

Body Combat
Cardio
Cardio classes are a total body workout, focusing on strengthening the heart and lungs to increase your indurance and overall physical well-being.
You will be getting fit and your energy levels will be soaring!
Classes include: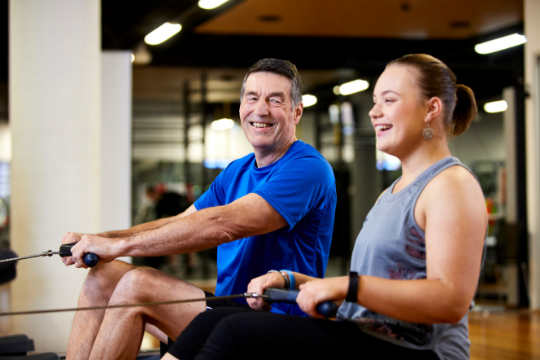 Body Pump
The original barbell workout with all the benefits of weight training using adjustable weights in a friendly environment and set to great music.
Body Combat
This high-energy martial-arts inspired workout is totally non-contact and there are no complex moves to master. Body Combat will challenge you to up the intensity and motivate you to make the most of every round. You'll release stress, have a blast and feel like a champ.
CX WORX
This program hones in on the torso and sling muscles that connect your upper body to your lower body. It's ideal for tightening your tummy and butt, as well as improving functional strength and assisting in injury prevention.
Gold Active
Gold Active is designed to keep you active as you get older. It focuses on cardiovascular fitness, muscle strength, balance, stability and flexibility to ensure freedom of movement and the performance of daily activities with ease.
Body Sculpt
A low impact Aerobics class focusing on core strength, firming inner and outer thigh and toning the butt. Helps to achieve an all-over body strengthening workout. Great for beginners to intermediate.
Body Balance
During Body Balance complimented music plays as you bend and stretch through a series of simple yoga moves and embrace elements of Tai Chi and Pilates. Breathing control is a part of all the exercises, and instructors will always provide options for those just getting started. You'll strengthen your entire body and leave the class feeling calm and centered. Happy.
Teen Active
Teen Active is a Fun and exciting fitness program for Children Aged between 11 years to 16 Years.
Yoga
Yoga: a series of non impact exercises designed to develop strength, flexibility, balance, and inner awareness.
HIIT Zone - HIIT
High Intensity Interval Training (HIIT) is constantly varied, high intensity movement using equipment or body weight to induce metabolic change in the body. It is proven to decrease resting heart rate, increase endurance, strength, stamina and cardiac threshold when done 2-3 times per week. Programmed to give short rest periods, this style of training will get you fit, fast!
BoxFit
Cardio workout focusing on upper and lower body movements. You will be skipping, pad work, push ups and core exercises. Great calorie burner. (30 mins class)
Boot Camp
Boot Camp is a combination of bodyweight functional training, weighted circuits, core training, cardio fitness training, competitive games and interval fitness circuits. This class will definitely tone up your booty. (30 min class)
Zumba
Forget the workout, just lose yourself in the music and find yourself in shape at the original dance-fitness party. Zumba classes feature exotic rhythms set to high-energy Latin and international beats. Before you know it, you'll be getting fit and your energy levels will be soaring! It's easy to do, effective and totally exhilarating.
Group Classes Timetable
If you enjoy exercising with friends or need a bit of motivation then we have the group fitness classes for you.